about us

about Dessi

calendar

members

rehearsals

listen / buy

watch / buy

t-shirts

links

photos

contact us
© London Bulgarian Choir 2017
T-shirts
We've made the cover of our first album, Alyana Galyana, into a beautiful t-shirt. You can see the image below. On the t-shirt print, the red tendrils extend beyond the square outline - we've got one of the men to model it for you. Scroll down to see...
Made of 100% cotton, the t-shirts are black with full-colour printing on front and back. The front is from the album cover, the back says "London Bulgarian Choir". We've had them made in four sizes and three shapes; the usual t-shirt shape, a long-sleeved t-shirt, and a V-necked shirt made with a more feminine cut. If we don't have your size and chosen shape in stock, we'll get in touch with alternatives or refund your payment - but you could always email us first to check.
T-Shirts are £10 + £1.50 P+P - the button below will allow you to pay with your credit card, or though PayPal. Reassuringly, PayPal deals with the security and privacy for all these transactions.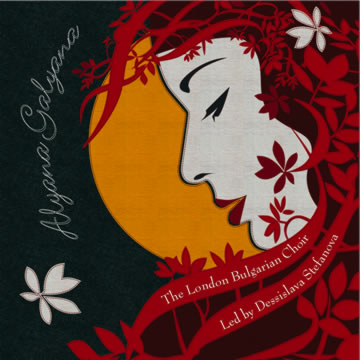 Artwork by Jay Alvarez at Root Interactive.