Zagorche Ensemble (touring the UK May 2018)
In 2009, and again in 2011, Zagorche toured the UK to great acclaim. We're very pleased to help welcome them back in 2018. This page will be updated as concerts and workshops are confirmed.

If you would like to be told of further details, email [email protected].
Here's the Facebook page for the event.
Download the London poster!

2018 UK tour dates include:
Date
Location
23-25 May


London

Regent High School Theatre, London NW1 1RX



Special guests The London Bulgarian Choir.


Wednesday 23 May, 7 pm, doors from 6:30

Entry is free – please bring a donation




25 May


Dymchurch, Kent







---
About Zagorche
The award-winning Zagorche Ensemble is an innovative and exciting group of young performers from the city of Stara Zagora, Bulgaria. Established thirty-four years ago, they have performed in every country in Europe.
Zagorche's performers come from every social background, and span ages from 6 to 18. They give a playful contemporary twist to traditional Bulgarian songs, music and dance. This tour involves more than thirty players, who travel with their insprational leaders, including choreographer / animateur Venelin Krustev and composer Kiril Todorov. The ensemble is seen as "an academy" because of the all-encompassing creative experience that this organisation gives to hundreds of children and young people in Stara Zagora, Bulgaria.
You'll get an idea of their wonderful performances from the following video clips:
Above: Oriental Tune / Hey, Young Spassi
Chopsticks (!)
Performing for the London Bulgarian Choir in 2005
Each link opens a YouTube video in a new window
There are many ways we can co-operate to bring this exceptional group to your area. Please contact Dessi (Dessislava Stefanova) on 07950 656319 or [email protected]
Photos of Zagorche rehearsing for their 2009 UK tour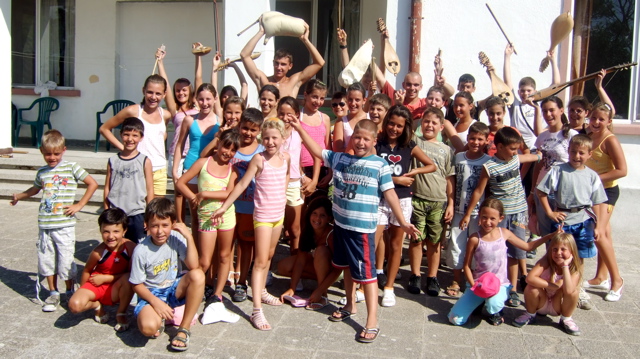 Zagorche's tour will be primarily funded by concert receipts. Please help us publicise their tour. Let your friends know, watch this page for more as concerts are confirmed, email [email protected] to hear more as we make announcements. Soon you'll be able to print out the colourful posters. Of course, you should come along. Bring your friends and family - there might even be a circle dance that you could try for yourselves.
---